Windsor Christian Aid Group invite you to
an Advent Candlelight service with
Marija Vranesevic
Hear Maria share about her work with  Christian Aid Partner Philanthropy,  supporting refugees in Serbia  fleeing the bloodshed of Syria and Iraq.
Sunday 27th November 2016 at 5pm
St Edward's Church, Alma Road,
Windsor SL4 3HJ
Refreshments will be served after the service.  For information call 01865 246818 or email oxford@christian-aid.org christian-aid-advent-service-poster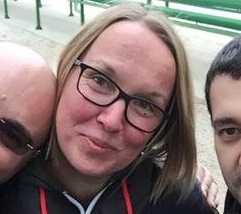 ca-advent-light-service-poster-2
United Reformed Church, Maidenhead
 Questions of the Day (a series of open evenings on matters that affect us all)
 No 2 : Social Justice in The UK
 How do you react when you see examples of poverty in contemporary Britain?
 "Are the poor really getting poorer and the rich richer?"
 "Is unequal distribution of wealth an inevitable consequence of personal freedom?"
 "How poor do you need to be to need help?"
 "When should the state intervene and when not?"
 "Are we concerned about poverty or inequality?"
 "Does poverty harm the state as well as the individual?"
 "Should we concern ourselves about poverty abroad when there is poverty at home?"
 An interactive evening of discussion and other activities to explore the consequences of poverty and the unequal distribution of wealth in our society, consider the political and ethical issues involved and examine our own emotional responses.
 Led by Paul Morrison (Policy Advisor to Joint Public Issues Team, Methodist Church)
 At the United Reformed Church, West Street, Maidenhead
 On 6 December 2016. Start 8pm, refreshments from 9.30pm, finish by 10pm
Windsor Carers Support Group
Dedworth Green Baptist Church, Smiths Lane, Windsor, SL4 5PE
10.30 to 12 noon on the second Monday of each month.
Please call 0800 988 5462 or just turn up!
Course: Church divestment & investment for a zero-carbon economy, Saturday 19 November, Friends House, London 10.30-4. Free
This 'skill-up day for climate campaigners, treasurers and finance officers and anyone interested in how church investments can work for a better future' is organised by Quaker Peace & Social Witness (QPSW) in partnership with Operation Noah.
Christmas Cards for Good Causes shop is open at the Christ Church URC, William St, in Windsor from 29th October to 13th December – open 10-4, Monday to Saturday.
The Silent Prayer Group meets each Monday morning at the Methodist Church, Alma Road, Windsor, at 7.00 a.m. – and we pray, silently, for half an hour, concluding at 7.30 a.m.  It is a small group, who find this half hour deeply worthwhile and enriching, and who would welcome more members.  It is a wonderful way to start the week. Do come along and try it – even if you are unable to come every week, you will be welcome indeed.  For more information, contact Ann Hinton, W. 860548.
Tuesday Evening Ecumenical Prayer Group: This Small Prayer Group, open to members of all the churches across Windsor, meets each Tuesday evening, 7.00 – 8.00 p.m., in the Cornerstone Chapel at Windsor Methodist Church, Alma Road, Windsor.  We pray for Windsor, its people and community, the only advice being, pray as you can, not as you can't! Silently, or spoken, simply pray as you feel moved to.  It is only a small group, but we have seen many prayers answered over the years.  If you feel this may be for you, come along and give it a try – you will be welcomed with open arms. For more information contact Ann Hinton, W. 860548.
The Churches Together Annual Assembly will take place on November 24th, 7.30 p.m. for 7.45 p.m. start, at Windsor Methodist Church, and will include a talk.
Real Advent Calendars are a beautiful way to journey through advent with a booklet with daily activities and thoughts, and of course, fair trade chocolate! Place your orders by emailing maidenhead@quenchshops.com
A Blue Christmas service will take place on Saturday 17th December 6 p.m. – please contact Margaret Dudley on 01753-867 117 or margaret.dudley@methodist.org.uk
A Peace Light service will be held in St Edward's church, Alma Road, at 3pm on Sunday 18th December. Each year, a child from Upper Austria kindles a flame from the "Eternal Flame" from the Nativity Grotto in Bethlehem where Jesus was born. The light is then flown to Austria from where it is distributed at a Service of Dedication to delegations who take it back, with a message of Peace, to their own countries for use at ecumenical services. Please bring a lantern to this service and take a "peace light" home; share the light among your friends!
Alone on Christmas Day? Join us for lunch at All Saints Church Hall, Frances Road, from 12.30 p.m. to 3.00 p.m. We have been running this for the last seven years with a combination of helpers from the St Vincent de Paul Society, several of the local Churches and volunteers from the community, so if you know of someone who will be one their own please contact Barry and Jane on 01753 856140 or 075 5499 0781. Transport can be provided.
The Week of Prayer for Christian Unity will take place between 18th and 25th January 2017. There will be services in various churches and different times during the week, to allow people with fixed commitments to attend at least some of the services, including a joint service to be held at the URC on Sunday 22nd January at 3 p.m.
The Women's World Day of Prayer service "Am I being unfair to you?" will be held on Friday 3rd March 2017 at 7 p.m. – to find out further information, please visit the website www.wwdp.org.uk – all welcome!
Look out for a series of Inter-faith "dialogues" organised by the Windsor and Maidenhead Community Forum on five Tuesdays starting on 17th January:
How much control do we have over our lives? at SGI-UK Taplow Court,
What qualities do we most admire in others and why? at the Maidenhead Gurdwarta,
What advice would we give to our younger selves? at St Mark's Catholic Church, Dedworth Road, Windsor,
How can we become happy? at the Maidenhead Synagogue.
Admission is free – everyone is welcome. The evening runs from 7.00 p.m. to 8.30 p.m. and we split into small groups to hear what other people think – no lectures – but we get to know each other and exchange views.